TABLE OF CORRESPONDENCES

self-portrait — on-going arrangement, where the unit of self is presented in it's attempts to collect all the mediated sides together through various technologies and tools. Real identity has unlimited number of tools for self-mediation — leaving traces in time and space. An expressed and reflected meta-mess of the one and the others in their interaction.


"It seems as we dive deeper into our research areas and become enveloped into the fabric of the communities we investigate, the terrain may in turn become both more visible in front of us as we engage in our research practice and yet more confusing within us as our self-knowledge evolves through this process." (Contours and shadows of self-reflection: Creating a "Narrative Hologram", L. Kubalova, D. O'Brien, T. Page, 2012: 6)



ON PRIVACY

Relationship between traces of identity and the real. Our bodies leave traces. Our Identities are read off by our physical and perceptional traces. Privacy is connected with our physical bodies, acting as keys and passwords.
ON LIQUID

Feature of everything.
Its borders are always in changing condition so they dont fix space and time. Borders create digital us. Borders are filters that mediate us. Filters or tools.

ON AMBIENCE

Absence of borders, privacy.
The Unit is always in constant interaction with the other world and can't be separated.



SUSTAINABLE INDUCTION CONCEPT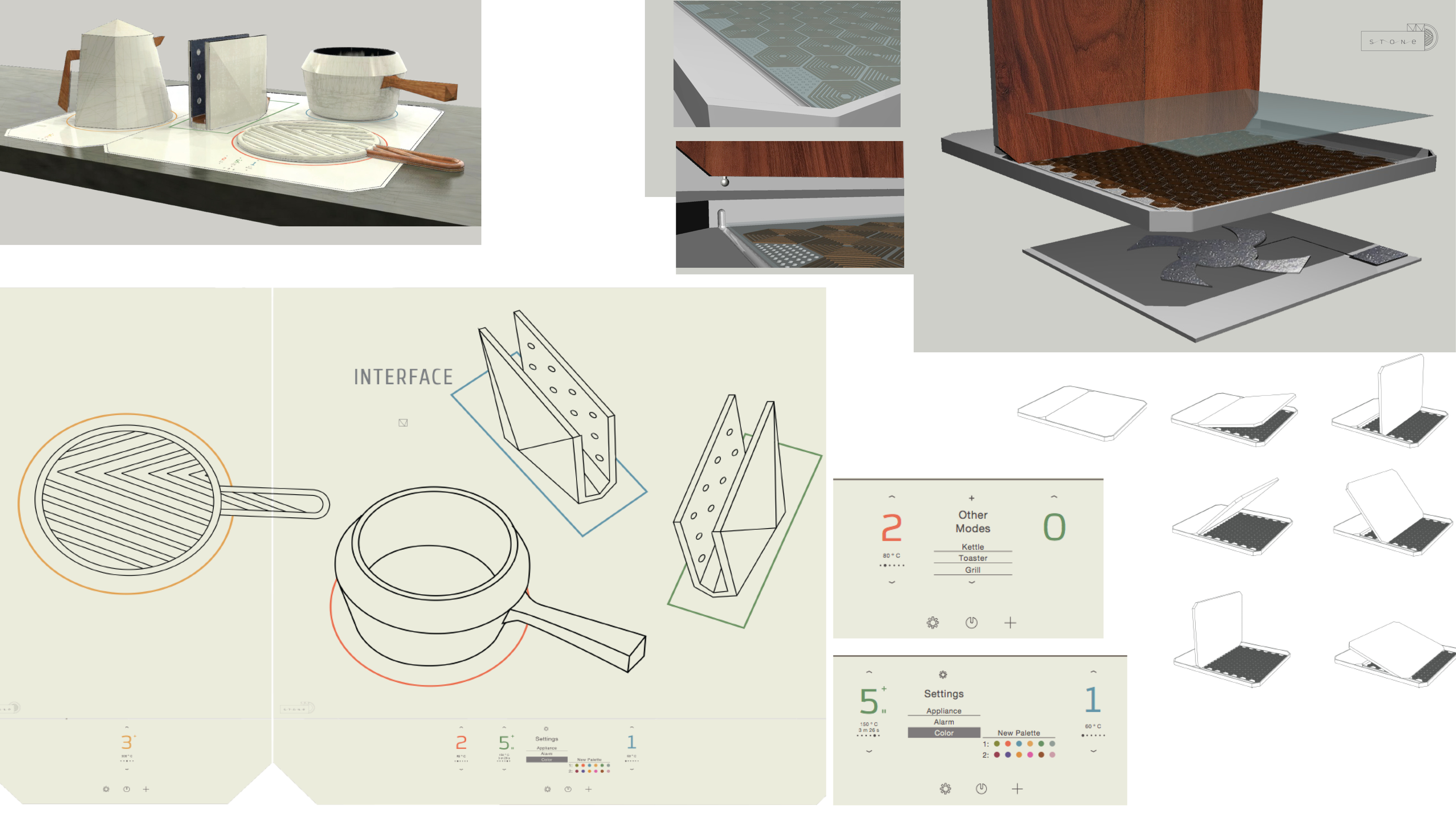 product design: stove concept with appliances, controlled by unified interface, UI, UX, visualisations


Sustainable design concept that looks at how induction cooking hobs could be used to power everyday kitchen appliances like toasters and kettles, as well as how induction cooking could improve everyday cooking instruments such as grills and saucepans. The result is an aesthetic and functional evolution of cookware that is made of sustainable porcelain and birch, completely wireless, free of electrical components developed through user-centered research: observation mapping, interviews, kitchen working flows, power area, faint places, design-thinking.

Developed in collaboration with Jack Holloway, Vina Kosasih, Donato Santoro, Jo Chang, Sarah Lynn Pesek.

Press: url, url, url



Food app_
Research questions: how much food is wasted; environmental impact; what groups of people waste more; reasons, what type of food is wasted more.
Concept of an app to reduce food waste based on insights from design research methods.
App synchronises with Tesco/Sainsbury's database and automatically traces the dates of the products, notifying when the product goes off.
App selects recipes for products you have in your kitchen, helping you to organise cooking with digital copy of your fridge. Synchronsing with your family/friends accounts to see whats inside their fridges (faster dinner planning and facilitation of the social).


SIT_upcycling time-based fashion prototypes
International conference on Future Breakthroughs in Science and Society scholarship Falling Walls, Berlin, 2013